Remote Sensing Laboratory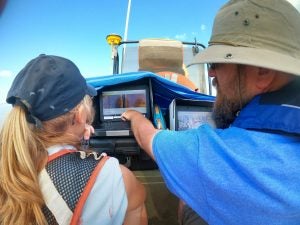 The Remote Sensing Lab was set up in 2018 at ECU's West Research Campus. This space is dedicated to practical training and preparation for marine and terrestrial remote sensing research. It is fully equipped to accommodate ECU researchers or graduate student classes to expand their working knowledge of archaeological remote sensing equipment assembly, deployment, and troubleshooting in a controlled setting. The Remote Sensing Lab is the home of the Program's side scan sonar systems, marine magnetometers, terrestrial and marine gradiometers, positioning devices, and metal detection equipment. The lab also contains a technical workshop with a multitude of peripheral equipment for underwater sampling, in situ corrosion monitoring, electronic testing, soldering, and battery maintenance.
List of Systems
Magnetometry
Geometrics 882 Magnetometer
Marine Magnetics SeaQuest Gradiometer
Geometrics 858 Magmapper
Acoustic Sonar
Edgetech 4125
Klein 3000H
Marine Sonics 900Khz
Marine Sonics 1200Khz
Remote Operated Vehicle (ROV)
Nova Ray
OpenROV
Metal Detection
Minelab Excalibur II
Minelab CTX 3030
Fisher Aquanaut 1280X
Garrett Infinium LS
Positioning
Topcon Hyper V RTK GNSS
Topcon ES 102 Total Station
Topcon GTS 220 Total Station
Trimble SPS 356
Trimble AgGPS 332
Trimble AgGPS 542
For a complete virtual tour of our Remote Sensing Laboratory, click here!