Capabilities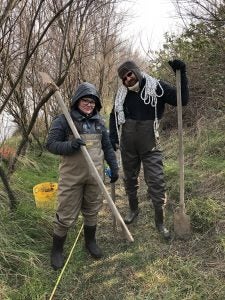 Our personnel have extensive experience working with local, state, federal, and international groups or agencies (from avocational groups to multi-international entities like UNESCO, and including NOAA, NPS, and DPAA). The scope of research projects extends globally from Eastern North Carolina to the Pacific, Central America, Africa and the Mediterranean. Below is a brief overview of the research capabilities within our program.
Remote sensing:
Marine and terrestrial and magnetometry;
Side scan sonar operations (400, 900, 1200kHz); and,
Terrestrial and marine metal detection.
Site recording (phases I-III):
Traditional site drafting (terrestrial and underwater);
Terrestrial and underwater photomosaic production and photogrammetric recording;
Site excavation (operation of induction dredges and air lifts);
CAD-based site reconstruction;
Position fixing capabilities (GPS, cadastral survey, GNSS system utilization);
Drone-based survey;
Artifact analysis;
Maritime cultural landscape analysis; and,
In situ preservation activities (including galvanic corrosion analysis).
Other services:
Historical and archival research;
Oral historical and ethnographic research;
Cultural resource database design and construction;
National Register nominations;
GIS preparation;
Site risk assessment;
Maritime museum exhibits and media design/support;
Citizen science programs;
Cultural heritage management consultation; and,
Material culture stabilization and conservation.
Services through affiliates:
Diving safety and logistics; and,
Boating operations.
---