Ragsdale Material Culture Laboratory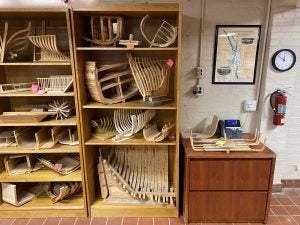 The Ragsdale Material Culture Lab was established in 2016 to replace the Maritime Conservation Lab as the primary location for basic artifact conservation treatments. This lab is now a center for artifact analysis, documentation, treatment, and storage in the basement of the Ragsdale Building on ECU's Main Campus. The lab is the proud home to the Bradley A. Rodgers Ship Model Collection, which consists of ship models predominantly created by graduate students in the MA Maritime Studies to assist with the instruction of ship construction techniques. Equipped with a classroom, photography studio, wet lab, and artifact storage space, this facility is designed for the archaeological investigation of material culture from land or sea.
For a complete virtual tour of the Ragsdale Material Culture Lab, click here!
To check out 3D models of artifacts created in this lab, click here!